At Al Salam Bank, we are very determined on presenting the most advanced services in Islamic banking to keep at pace with the fast developments and to face the future challenges of the local, national and global markets. Through services and products that can lead the movement of creativity and innovation, we will be able to achieve the highest returns for both our clients and shareholders. We will also be able to rise with Sudan in order to achieve the desired development in the near future.

Our aim is to rise with the banking sector to the highest standards of dedication and efficiency to create a difference in the nature of all banking transactions. This becomes possible through the creation of innovative Islamic banking solutions and services that can meet the needs of all clients and shareholders. Our future strategies and activities are based on effective plans that will revitalize the economic, industrial and commercial condition to achieve major developments in different fields and promote every aspect of our society.
---
Dubai Islamic Insurance & Reinsurance Company (AMAN) was established in the second quarter of the year 2002 as a promising national public shareholders company announcing the beginning of a new era in Islamic insurance in the UAE. Aman's founding members consist of key investors including Dubai Islamic Bank, The investment Office. The company also includes numerous shareholders. The Company aims to offer a comprehensive system of outstanding Islamic Insurance Services that support the stability and security of our communities. As a national Islamic company, Aman investment and insurance activities are conducted in accordance with Shariah guidelines under the supervision of the Fatwa and Shariah Supervisory Board whose members are specialists in Islamic economic and Shariah transactions. In our capacity as fund managers for our policyholders, Aman, through the Islamic mechanism of mudaraba, invests on their behalf the insurance premiums they pay us and distributes the profits that accrue. The amount determined by status of each individual policy. In this way, policyholders receive protection and investment services at the same time.
---
Tadhamon Int'l. Islamic Bank - Bronze Sponsor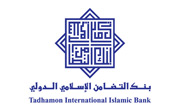 Tadhamon Int'l. Islamic Bank, a Yemeni joint-stock company, is seeking to offer the best Islamic banking and investment products for customers, domestically at foreigners based on total quality standards.Tadhamon International Islamic Bank leads the local banking sector and achieves a strong financial core and a high level of investor confidence.