Adeem Investment - Diamond Sponsor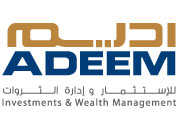 ADEEM Investment Company has succeeded in positioning itself among leading investment and Islamic financial companies in Kuwait. It performs today as an investment arm of Efad Holding, which gathers under its umbrella, a number of companies operating in different sectors such as real estate, financing, transportation and logistics services.
Although the company is still young in Kuwait, it has earned investors trust. It has positioned itself as private entity in the local market and strengthened its position with the ability to create and introduce investment and Islamic finance tools among which are "ADEEM Convertible Sukuk" that was registered as a patented invention & intellectual property, under the company name in the United States of America. The company owes its success to its highly qualified team who has a longstanding experience in investment field & back up of its extensive network and relations of its parent group EFAD.
ADEEM's strategy is based on diversifying investments, sectorally and regionally, in order to minimize risks. The company aspires to play a key role in regional markets by tackling new promising ones. It has taken the first step towards achieving this target by opening a branch in Bahrain and is embarking upon opening another in UAE in near future.
"The reason behind establishing ADEEM has risen from the necessity to create About us.... a specialized investment and financial arm for EFAD GROUP which gathers several companies operating in different sectors such as real estate sector led by Sawaf Real Estate Co., Hotels led by Refad, Logistics services by Rehal Co, specialized in transportation, food through Wafer for food catering, then telecom and technology through NewTelecom".
ADEEM was previously Al Diwan Holding which was totally restructured. ADEEM Investment was born after increasing the capital in May 2005 to around KD 15 million (USD 51 million). This capital increase was followed by Kuwait Central Bank (CBK) approval to grant the Company an investment Company license where by it became under CBK's supervision. The young age of ADEEM didn't affect the innovation of a comprehensive Islamic investment company; on the contrary, it has succeeded by all means, in positioning itself among leading investment companies in Kuwait.
ADEEM's achievements in 2005 have paved the way to increase its capital to around KD 50 million ( USD 170 million) by capitalizing its profits. The main drive behind this increase was its success in M&A activities such as Credit Rating & Collection Co (CRC) for the account of The Investment Dar (TID) and Gulf Craft Inc (GCI) for the account of REHAL.. Private Equity placement activities also played a key role such as the co-placement of OQYANA and EStehwaz as the two biggest private placements in the Gulf region was itself a major asset in this achievement.
Increasing ADEEM's capital comes to support the expansion dimensions of the company toward emerging and promising markets. It reflects as well the confidence of investors and shareholders in its ability to boost investment's activities.
Adeem has pioneered by structuring the first convertible sukuk. In addition, Adeem was awarded for best innovative Islamic financing structure. All of this has happened during the time that Mr. Mostafa Al-Saleh has been the CEO of Adeem.