Albaraka Banking Group - Platinum Sponsor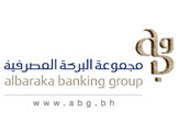 Introduction to ABG:
Albaraka Banking Group (ABG) is a Bahraini Joint Stock Company listed on the Bahrain and Dubai stock exchanges and one of the well-known leading international Islamic banks. It has been rated by Standard & Poor's as BBB- with a short-term rating of A-3. ABG offers retail, corporate and investment banking and treasury services strictly in accordance with the principles of the Shariá. The authorized capital of ABG is US$1.5 billion, while the total equity amounts to about US$ 1.5 billion. ABG was evolved from the need to have a truly global Islamic banking service for the Arab World and Muslims worldwide. ABG has successfully synergized vastly successful Islamic banks and financial services companies in the Middle East, and North and South Africa into a recognizable Group that has established a name for itself in the Arab and Islamic Banking World. Thus ABG has a wide geographical presence in the form of subsidiary banking Units and representative offices in 12 countries which in turn provide their services through around 240 branches. The Group is headquartered in Bahrain and is regulated by the Central Bank of Bahrain, one of the foremost regulators in the Arab World. ABG has in place growth strategies derived from intimate market knowledge in retail, commercial and investment banking that was garnered from the experiences of its member-subsidiaries (the "Units"). The Group has defined business priorities for itself in the context of the changing world Islamic banking environment in terms of competition, increased corporate governance and financial transparency. Looking both internally at upgrading its business and operational methodologies and externally at becoming more competitive, the Group will pursue these business objectives diligently and position itself to be the premier Islamic banking group in the world. In July 2006, the ABG completed a successful Initial Public Offering of its shares, converting the bank from a closed shareholding company into a public joint stock company. The transaction, which comprised a private placement first stage dilution of the Founder shareholders' stakes in addition to the IPO, was for a total value close to US$ 1 billion - one of the largest for a financial institution in the region. The successful Initial Public Offering (IPO) of ABG signaled the arrival of the Group into the Islamic financial services community as a strong contender for the position of the leading diversified Islamic Groups in the world.
ABG Mission:
Our Mission is to be the leading Islamic banking group with a worldwide presence, offering retail, commercial, investment banking and treasury services strictly in accordance with the principles of Shari'a.

Strategic Objectives of ABG:
To enhance shareholder value whilst pursuing a strategy of business growth and geographic expansion. To provide innovative and high quality research and development into Islamic financial products which comply fully with the principles of Shari'a Law and Islamic values, for the benefit of its customers. To utilize the Group's geographical presence to distribute its products and services and promote cross-border services. To maintain the highest international standards of corporate governance and regulatory compliance.
ABG Banking Units :
Jordan Islamic Bank/ Jordan, Al Baraka Islamic Bank/ Bahrain, Al Baraka Islamic Bank/ Pakistan, Banque Al Baraka D'Algerie/ Algeria, Al Baraka Bank Sudan/Sudan, Al Baraka Bank Ltd/ South Africa, Al Baraka Bank Lebanon/Lebanon, Bank Et-Tamweel Al- Tunisi Al Saudi/ Tunisia, The Egyptian Saudi Finance Bank/Egypt, Al Baraka Turk Participation Bank/Turkey, Albaraka Bank Syria/Syria and an ABG representative office - Indonesia.